Be part of DublinTown's Snapchat Marketing Plan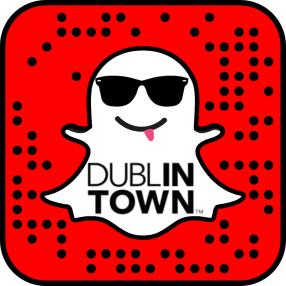 What is Snapchat? Snapchat is one of the best thing to happen for businesses on social media in recent months, and it's a marketing tool that can't be ignored.  It is a mobile messaging app that is free to download and has become hugely popular in a very short space of time. More and more brands, individuals and businesses are embracing this platform and now we're creating a Digital Marketing strategy that incorporates the social media giant.
How does it work? Snapchat allows you to share photos, videos, text and drawings to our 'story' – it's like our very own personal TV channel. Snapchat also includes a private messaging function which allows you to chat with your audience (similar to Facebook Messanger).
Why are we jumping on Snapchat? Because we believe that businesses should go where the people are. Snapchat is the 3rd most popular Social Media platform in Ireland and has the highest rate of audience engagement than any other social media platform. In DublinTown, we're working on developing new Social Media strategies to build brand awareness and drive sales for our members.
PLAN OF ACTION
With our new Snapchat marketing strategy, we plan to collaborate with our members, by creating stories about your business and giving relevant content to our audience.
The good news is that Snapchat Stories are 100% spontaneous, so we can be creative with your business's needs and products.
Below are some ideas on what we can create for your business on our Snapchat Story:
A behind the scenes look of your business
Broadcast big announcements, such as new products and collections
Inform people on in-store deals or promotions
Drive followers to your Facebook page or Twitter account with giveaways and competitions
Recently we created a Snapchat Story for Once the Musical at the Olympia Theatre, See below for an example of our Snapchat marketing:
This is just one of many stories we have created and there is much more to come.
WHAT NEXT?
We want to create a story with you and your business. Now it's time for us to work together to come up with an inventive and unique idea.
Got an event coming up or want us to come and introduce our audience to your brand? Excellent! If you want to be a part of our Snapchat Story, simply email Jess at Jess@DublinTown.ie.
If you are interested in boosting your business using stories onsnapchat (or even Instagram, with their new stories feature) contact Jess and Sam and they will be more than happy to tell you more about this new marketing approach.
Email: Jess@DublinTown.ie and Sam@DublinTown.ie
There is so much to gain and nothing to lose. We're really looking forward to hearing back from you and working together to create a Snapchat Story for your business. Don't forget to follow us on snapchat @DublinTown or scan our Snapcode (see red snapchat icon above).