Dublin City Comes 'Alive After Five' to Celebrate Purple Flag Win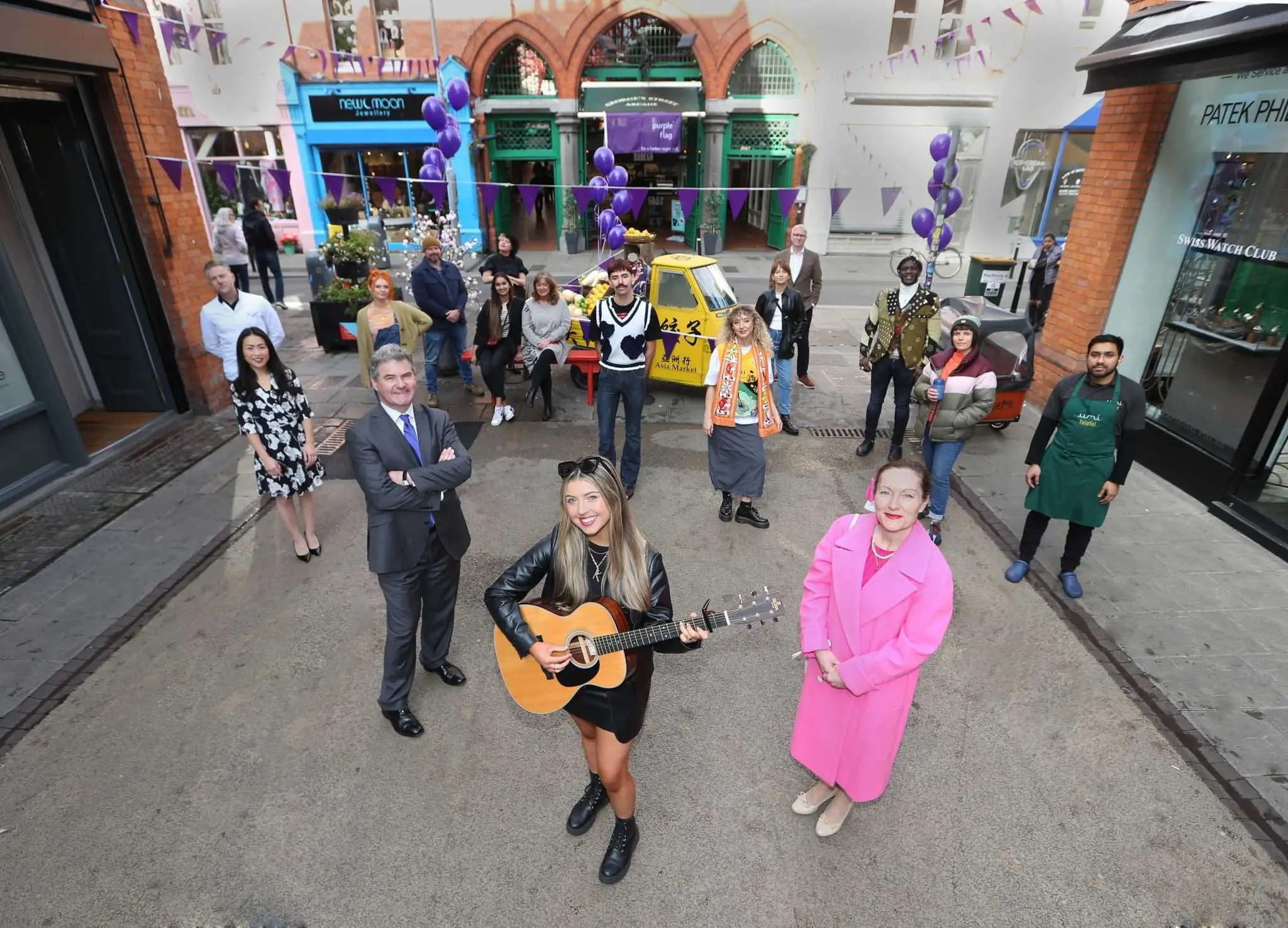 DublinTown in association with Dublin City Council have announced a four day celebration of Dublin City's Purple Flag status kicking off on October 20th each night between 5pm and 10pm. The four day celebration will be packed with free events on both sides of the city showcasing the best in culture, food, and music that Dublin has to offer. From cooking demonstrations on Drury Street, live performances from the city's beloved buskers, and an outdoor cinema on Capel Street, there's something for everyone to enjoy.
Lord Mayor of Dublin, Cllr Caroline Conroy said: "Dublin city centre has a vibrant and diverse evening and night-time economy. There's so much choice, from the great restaurants and bars to the wonderful theatre and cinema options. There's so much for people to enjoy. The purple flag award is for excellence in the evening and night-time economy. I'm not surprised that Dublin city centre has been awarded the international purple flag award."
Like the Blue Flag given to Ireland's finest beaches and the Green Flag that flies in the most eco-friendly schools, the Purple Flag is an international accreditation scheme that honours excellence in the appeal and management of a town or city centre area after 5pm. Dublin is just one of 40 cities in Europe to be given the badge of honour.
DublinTown's Chief Executive Officer, Richard Guiney said: "Vibrant, night-time economies do not happen by accident. Innovation, curation, planning and partnership are all key elements to creating a destination that can engage users after dark. It has been a collective and valiant effort across all Dublin stakeholders to not only win the award but also to work continuously to maintain the standards achieved."
Dublin City Centre's Purple Flag is a cooperative process between DublinTown (and their member businesses), Dublin City Council, An Garda Síochána, Fáilte Ireland, the Local Community Safety Partnership and city transport providers including Dublin Bus.
Taking place across two of Dublin's most sought-after streets, the four-day celebration's programme will invite people to experience the best the city has to offer.
FOOD & DRINK
The Asia Market is set to be a real highlight of Thursday evening (20th October) on Drury Street, with a host of tasty activities inside and outside. Step up to the food truck and get sampling some delicious free dumplings, snacks and drinks. Wash it all down with a complimentary sake tasting of over ten different types. Learn how to replicate the culinary experience in your own home with an in store Chinese cooking demonstration.
Alongside the traditional grub, the market will also be a hotspot for brand exclusives. Coke Zero have chosen the occasion to collaborate and a 'Spin Wheel Event' will be on-site, with prizes including keyrings, pens, goodie bags and vouchers from Asia Market up for grabs.
CULTURE
Illuminating the town with costumes, buskers and light-up shop fronts, the city will be a hive of exciting activity. Filling the air with glorious tunes, our local buskers will be taking centre stage and sharing with the streets their material. On Drury Street, come and listen to Indo-Dutch Musician/singer/songwriter/street musician Jacob Koopman, who recently performed on Grafton Street with Niall Horan and Lewis Capaldi. 18 year old Irish musician and busker (usually on Grafton Street), Kylabelle and the well-known Dublin singer Mick The Busker will also be on the roster, alongside a host of other home-grown talent.
Perhaps one of Dublin's most iconic spots, George's Arcade welcomes everyone until 10pm specially for the evening for live music and an atmosphere. The stunning location with its ornate ceilings will shine purple in honour of the city centre's flag.
SUPPORT LOCAL BUSINESSES
Dubliners and visitors can use the occasion to get in some late-night shopping – or better yet, start ticking off the Christmas shopping list early, or even book in that trim you've been meaning to get for ages. A list of local businesses will keep their lights on and continue to welcome shoppers into their stores well after the shutters would normally have come down. Sam's Barbers will be styling the streets with Pomp & Co products, and Om Diva, Costume, Charlie Cullen, TBD, Loose Canon and Tales for Tadpoles, Rare and Nutty Delights will all open after normal hours to showcase what they do best and why we all deserve to fly the purple flag for our vibrant city centre.
Fancy grabbing a bite while you rediscover the streets? On Thursday a host of eateries will keep their kitchens ablaze after hours offer sumptuous dishes and treats. These include Kaph, Loose Canon, Drury Buildings, Fade Street Social, Grogan's, La Maison, Smoking Bones, GBK and Fallon & Byrne.
The Purple Flag Celebration is brought to you by DublinTown in association with Dublin City Council. Find the full schedule of events on the Dublin Town website.