DublinTown Hosts Dublin Central Site Meeting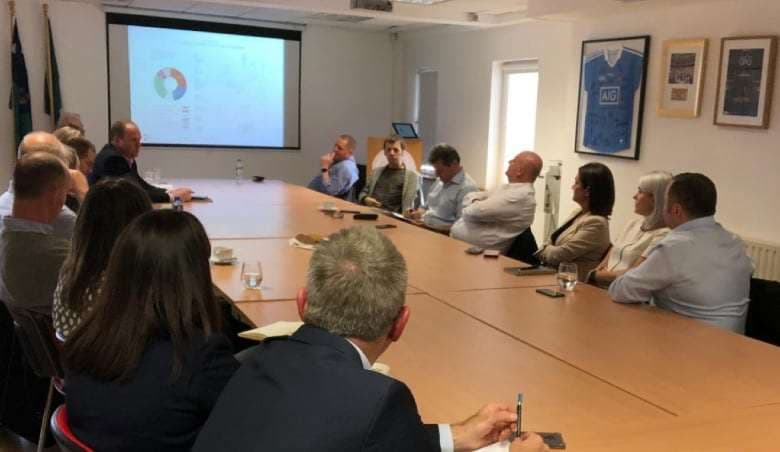 On Friday, August 30th DublinTown hosted a meeting of property investment company Hammerson with members of the local business community on the development of the Dublin Central Site.
Hammerson is planning a vibrant mixed-use development of one million square feet, stretching from Upper O'Connell Street to Parnell Street to Moore Street & Henry Street.  This location in the north inner city centre has unique heritage and connections with 1916, while at the same time is at the heart of the commercial and retail centre of Dublin. Building on their experience with 21 flagship destinations in 14 countries, Hammerson presented a thorough vision for the Dublin Central Site.
The proposed development would include new plazas and laneways and introduce new retail outlets, restaurants, office facilities and the restoration of the Moore Street markets.
Those in attendance at the meeting were presented with extensive notes on the research that has taken place, ensuring that the future proofing of the area continues to commemorate its historic significance. Feedback to the presentation was overwhelmingly positive, with vocal support from those in attendance.
Speaking on the plans for the Dublin Central Site, CEO of DublinTown Richard Guiney said: "DublinTown is very excited by the plans presented for the redevelopment of the Dublin Central area. We believe that the proposals are exactly what is required for this hugely important part of the city.  It is reassuring to see the level of detailed consideration contained in the vision which both respects the district's heritage and historical significance while also allowing for the development of a destination that will meet the needs of the city's 21st century citizen and visitor.  Many commentators have lamented the fact that the city's northside has been overlooked when it came to investment for too long, however, this is now being addressed.  The Dublin One district is seeing significant investment, and we believe that visionary plans such as that developed by Hammerson will act as a catalyst for even great progress.  The city's northern core has come of age."