DublinTown proud to be involved in Ireland 2016's Easter commemorations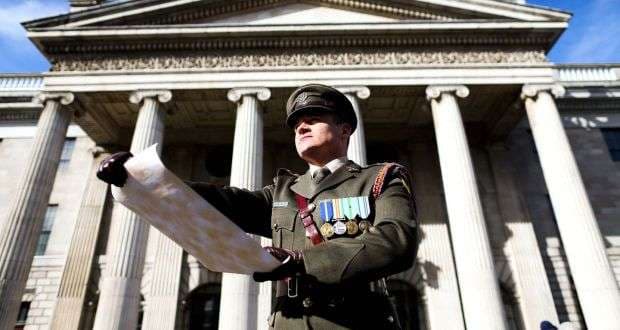 Hundreds of thousands of people witnessed a spectacular display of patriotism during the Easter celebrations as part of Ireland 2016. This event was one of the biggest cultural events to ever happen in this country and DublinTown played its part in representing members in the lead up to and during the celebrations.
Every member of the team including our CEO Richard Guiney, director of marketing Clyde Carroll, operations director Gerry Farrell, business liaison officers and our ambassadors, played a role in all the events that took place within the Business Improvement District.
The scale of the event meant it would have some impact on businesses, particularly for those within the O'Connell St area on Easter Sunday when the parade and special ceremonial events took place outside the GPO. The DublinTown team worked for its members and with organisers to ensure the event was delivered,  with minimal impact on trade, where possible. In the lead up to the event, the business liaison team went door to door to businesses impacted by the celebrations outlining the event scheduled over that weekend and to deliver feedback from businesses to the organisers. Our involvement ensured road closures did not impact daily deliveries to businesses and staff passes were distributed to those who required it.
Throughout the weekend, our ambassadors were in the middle of it all helping locals and tourists find the best viewing spot during the parade and offering information on events taking place across the city.
Our consumer site, Dublintown.ie and our social media outlets worked with Ireland 2016 and other organisers in communicating what was happening as it happened over those three days. Our operations manager, Gerry Farrell was in the control room at Dublin Castle during the events dealing with members' queries and issues as they happened, as well as keeping a live feed on events that were taking place.
After weeks of planning the events finally made shape and became a lasting memory for the crowds who attended over the Easter weekend. All of the team in DublinTown feel proud to have been involved in this once in a lifetime event. We would like to thank our members for working with us and the organisers in helping to make this event a success.