DublinTown services aboard visiting Cruise ships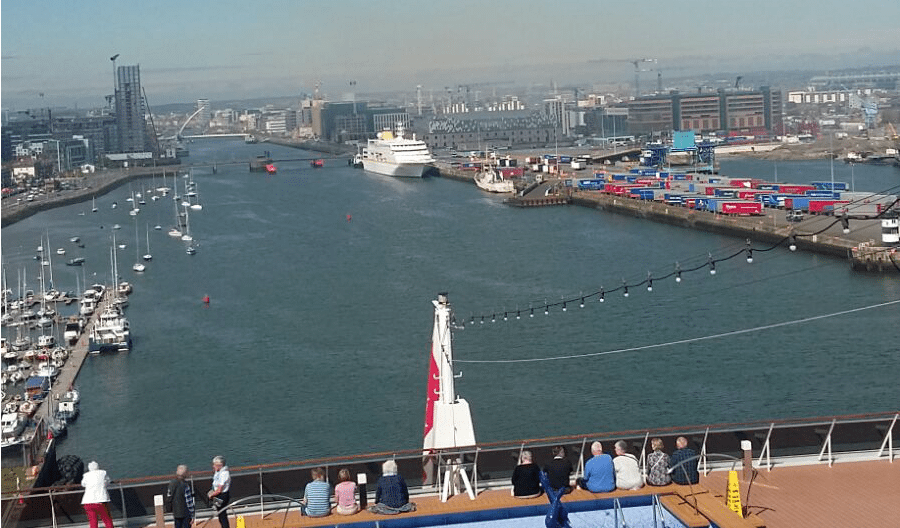 Gerard Farrell
Tue 08 May, 2018
You could be forgiven for thinking that the view in the photo below is taken from the top floor of a new sky-scraper in the Dublin docklands, and to an extent you would be right. At 65 meters in height the MSC Meraviglia cruise liner is a good six meters taller than Liberty Hall and when it docked last Saturday (May 5th 2018) it became the largest ever ship by passenger capacity to dock in Dublin Port.
Aboard this impressive ship were 5,700 passengers and over 1,300 crew. It is however, just one of the 148 cruise ships that will dock in Dublin Port over the course of 2018. Over the bank holiday weekend, along with this ship, three other cruise ships visited Dublin Port.
Not all the ships set to dock here will be as enourmous as the Meraviglia, some are boutique liners with only a few hundred guests, but one thing they all have in common is that on-board to greet passengers are the DublinTown Ambassadors. Our ambassadors provide these visitors with maps, information and recommendations for places to shop, socialise and visit during their short stay in Dublin.
More than 150,000 cruise ship passengers will visit Dublin Port this year, making it the busiest year yet for cruise ship visitors. DublinTown staff are the only tourist assistance staff that board the vessels down in Dublin Port and have been providing this service for the last five years. In that time the number and size of the cruise ships docking in port has continued to grow and this will likely continue with the current ambitious plans in place to grow and develop the Dublin Port facilities.
Dublin works well as a cruise port destination, unlike many European capitals Dublin is close to its port and links into the city are improving. We encourage all DublinTown members to make sure your DublinTown ambassadors are kept up to date with your business and the quality of your offering by availing of our "Meet the Business" briefing programme.
If you would like the opportunity to brief the DublinTown ambassadors please let us know by getting in touch on 01-6334690 or email Cathy cathy@dublintown.ie