DublinTown & VISA Ireland Host "Future of Payments" Members Networking Event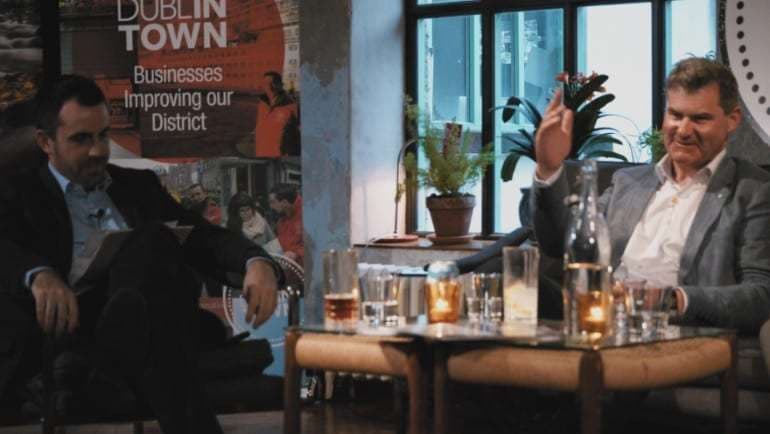 Members of DublinTown enjoyed an evening of networking and discussion on the future of payments – including the topic of cashless businesses – on Wednesday June 12th, 2019.
Hosted by DublinTown in association with VISA Ireland and taking place in the unique event space of Drury Buildings, those in attendance heard about the benefits of moving to a cashless system, consumer expectations and what changes (and challenges) can be expected in the future in regards to card payments.
Speaking at the event were:
MC – Gavin McLoughlin (Deputy Business Editor, Newstalk)
Richard Guiney (CEO, DublinTown)
Philip Konopik (Country Manager, VISA)
Sam Donnelly (Owner, Sam's Barbers)
DublinTown has noticed a trend with consumers where there is an expectation that shopping in a physical environment should be as seamless and convenient as it is when shopping online. Speaking on this, Richard Guiney noted "with Generation Z going cashless is the way forward and that businesses will need to adapt. In Britain & Germany, over 50% are already cashless".
Looking to the future, Philip Konopik explained how the payment process is continuing to evolve, for example "in Ireland, 55% of all their customer transactions are on card. This number is only going to increase with public transport and taxis."
Finally, Sam Donnelly elaborated on the decisions and benefits behind moving to a cashless business, commenting how "if standards are high then customers will embrace change and move with you."
DublinTown would like to thank our MC and panel of guests for sharing their experiences, those DublinTown members who supported the event and availed of the networking opportunity and to Drury Buildings for allowing us the use of their event space for the evening.
Future members events, including more related to payments and potential changes in the industry, will be notified to members through our Membership Managers and mailing list. Please reach out to damon@dublintown.ie for more information.