Events this weekend to commemorate actual date of 1916 Rising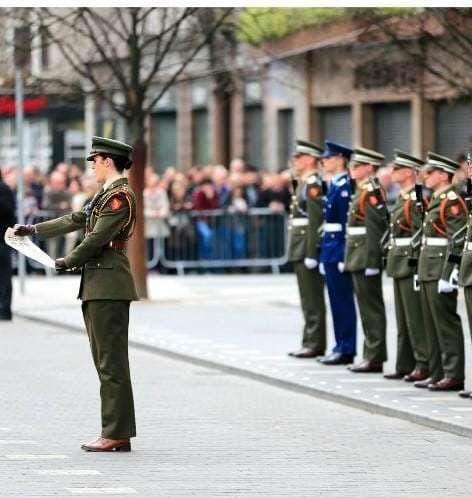 There will be a number of events taking place over the weekend of 23rd-24th April to commemorate the actual 100th anniversary of the 1916 Rising which is Sunday April 24th.
There is a small event due to take place at the Garden of Remembrance on Saturday 23rd, while a series of events are planned for Sunday 24th.
Several of the events taking place on Sunday 24 will take place in front of the GPO, O'Connell Street. Access for the Arnotts car park via Princes Street North will be maintained. Luas will be running on the 23rd and 24th after industrial action was called off. Buses will be re-routed to their usual alternative routes.
The first event in the city on April 24th is the Athletics Ireland/Dublin City Council  Dublin Remembers 5K Run starting from Mountjoy Square at 8am. proceeding through the city via O'Connell St. and finishing at the Royal Hospital Kilmainham. Further details are available here
Events proposed include:
10.15am – 11.15am:  Sinn Féin Proclaim the Republic                                                              
 11.15am – 12noon:  Citizens Initiative for Republic Day                                                         
12noon – 1.20pm: National Graves Association Citizens Commemoration (Group will march to St. Pauls Cemetary, Glasnevin at 12.30)  
4pm – 4.45pm  Reclaim the Vision 1916  (March from Merrion Square South, convening from 2pm, leaving at 3pm via Lincoln Place, Pearse St. D'Olier St. arriving  O'Connell St at 4pm approx. with event taking place on O'Connell Street for around 45 mins)
As events are set to take place on O'Connell St some road closures are likely to be in place on parts of O'Connell Street, which will be managed on the day by An Garda Siochána. Gardaí will endeavour to keep O'Connell Street open for as long as possible. It is likely that on Sunday April 24th , O'Connell Street Northbound will be closed from 10am – 6pm, on a phased basis,  and Southbound from 8am – 6 pm also on a phased basis.