Former Lord Mayor of Dublin meets northside businesses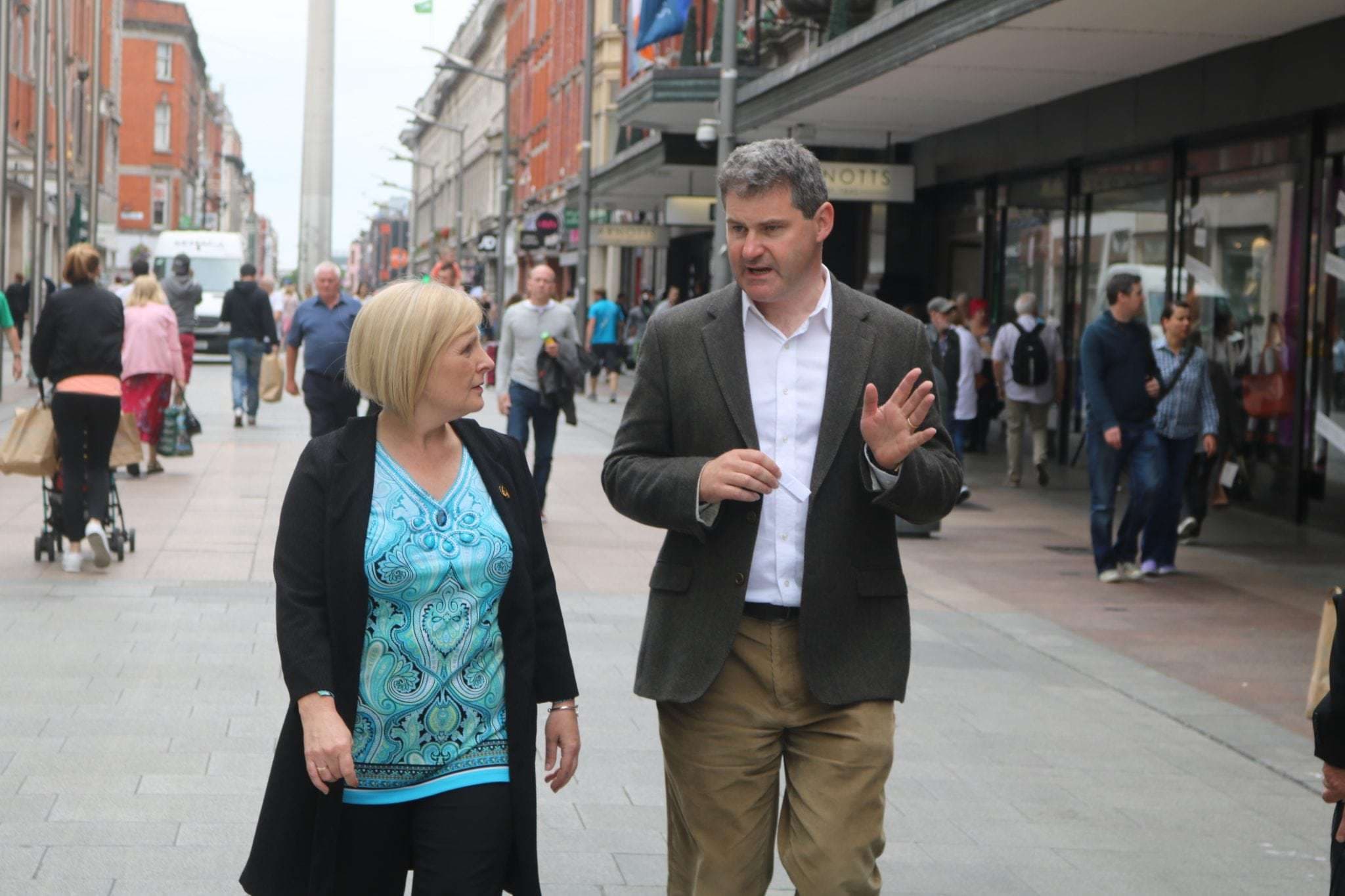 Just a couple of weeks before Críona Ní Dhálaigh handed over the Lord Mayor of Dublin chains to her new successor Brendan Carr, the then Lord Mayor took to the city streets for her second Meet the Business walkabout with DublinTown CEO Richard Guiney.
A month previous, the Lord Mayor was out and about in Dublin's Grafton District and Creative Quarter to get a taste of the diverse businesses this city has to offer. On June 10, it was time to go back on the road and this time it was across the river to the Talbot District and Henry District areas.
[SlideDeck2 id=7833] Richard met with the Lord Mayor at the Talbot District's newest investor, Smartbox, where they met with Rachel Manning and Damien Basselier Chief Information Officer who discussed their new premises over a nice cup of tea in their employee's very impressive canteen. Having moved in earlier this year, the French gift voucher and rewards firm doubled its workforce bringing it to over 300 employees.
[SlideDeck2 id=7841] Walking down Talbot Street towards North Earl Street, Richard and the former Lord Mayor stopped in to Singer Sewing. Here, owner John Whelan showed the Lord Mayor a picture that featured his family's business at an event in the Lord Mayor's house on Dawson street! The display of original sewing machines brought the Lord Mayor back to her childhood as she recognised a machine that her grandmother used.
Moving on, it was down to Ann's Bakery on North Earl Street, another new business to the Talbot District. This is the third addition to the Ann's Bakery cafe chain with two other cafes on Moore Street and Henry Street. A favourite of the former Lord Mayor who informed the manager Tracey about her sweet tooth!
Walking to the end of North Earl Street, DublinTown ambassadors were on hand to assist the Lord Mayor with any queries she had in relation to Dublin and its many business offerings.

Business highlights
Luas Cross City works was one of the main issues brought up during this walk. While busking on Henry Street was also a topic of conversation as some businesses find it hard to work with high volume amps playing in the background nearly all day. Another matter on the mind of some businesses is if the council would consider turning Capel St into a pedestrian only zone, something this Lord Mayor was interested in hearing more about.
[SlideDeck2 id=7846] After a nice walk down one of Dublin's main shopping streets, Henry Street, it was a quick turn to Lower Liffey Street to greet Conway's Jewellers' owner David. Just around the corner, Paul of Diffney menswear was ready to greet the Lord Mayor where she admired the very colourful display of men's clothing before discussing more about their day to day business.
Capel Street was the next destination, meeting business owner Alan at his family store Mullen's Sports which celebrates 100 years this year.
Camerino bakers was packed with lunchtime revellers when the mayor paid a visit, who was very tempted by owner Caryna's selection of cakes.
When in Martin Gear Jeweller's, the Lord Mayor's chains were the topic of conversation as Martin valued them to be, well, priceless!!!
[SlideDeck2 id=7854]
Before heading back towards Marlborough Street, the mayor and Richard went back in time thanks to GSM Solutions' selection of mobile phones, including one of the very first, which is much bigger than what anyone would even think of using today!
[SlideDeck2 id=7850]
The last stop of the day was to The Confession Box, who were recently voted Dublin's Number 1 pub in a 98FM awards ceremony. Overall it was a great day with the Lord Mayor thanking DublinTown for another successful meet and greet!