Free Bag Minding Service – Shop & Drop – Available in 2 Locations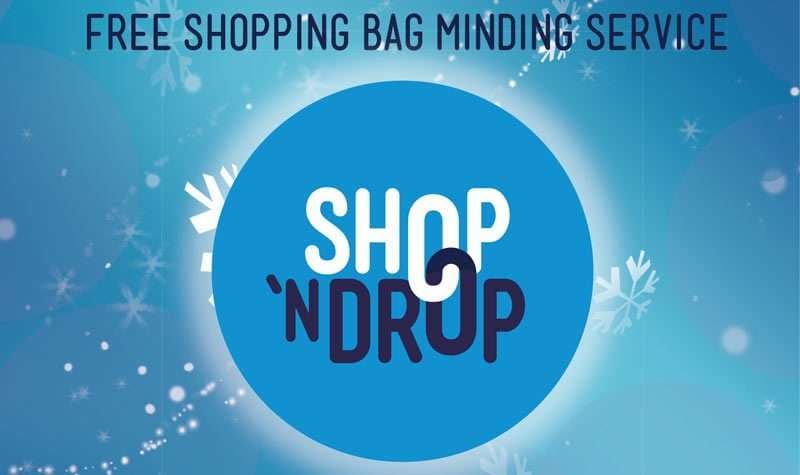 Free service returns to the Northside and Southside areas of the city from 19th November – 28th December courtesy of DublinTown supported by LUAS
Christmas 2015 will see the return of the hugely popular and successful Shop n'Drop. Organised by DublinTown and supported by Luas, Shop n'Drop is a free shopping bag minding service located in two convenient city centre locations – one in the Jervis Shopping Centre and one in Stephen's Green Shopping Centre.
Now in its fourth year, the free shopping bag minding service will run from Thursday, 19th November until Monday, 28th December opening Wednesday to Sunday from 12 Noon until the centres close.
This service gives the public the opportunity to store their shopping bags in a secure, convenient location and for free, while they go off and experience the magic that is Dublin at Christmas!
Shoppers can leave their shopping in the secure Shop n'Drop locations for up to three days. The service is a perfect way to experience city centre shopping by day and the magic that is Dublin City Centre by night without having to worry about being laden down with shopping bags.
The Shop n'Drop store on the south side of the city is located in the Stephens Green Shopping Centre at the top of Grafton Street on the middle floor of the next to TK Maxx. While the north side Shop n'Drop is located in the Jervis Shopping Centre on the upper 1st floor above Mothercare. The locations of these stores are perfect for Luas passengers to collect their shopping before heading to the Luas stops close by.
For Shop n'Drop opening hours visit here for Southside location and here for Northside location.
The Dublin at Christmas features details of events for all of the family, fun for you and your friends and great special offers in shops, restaurants, bars and hotels. As well and all the details you need on Shop n'Drop.