Luas Cross City works – your questions answered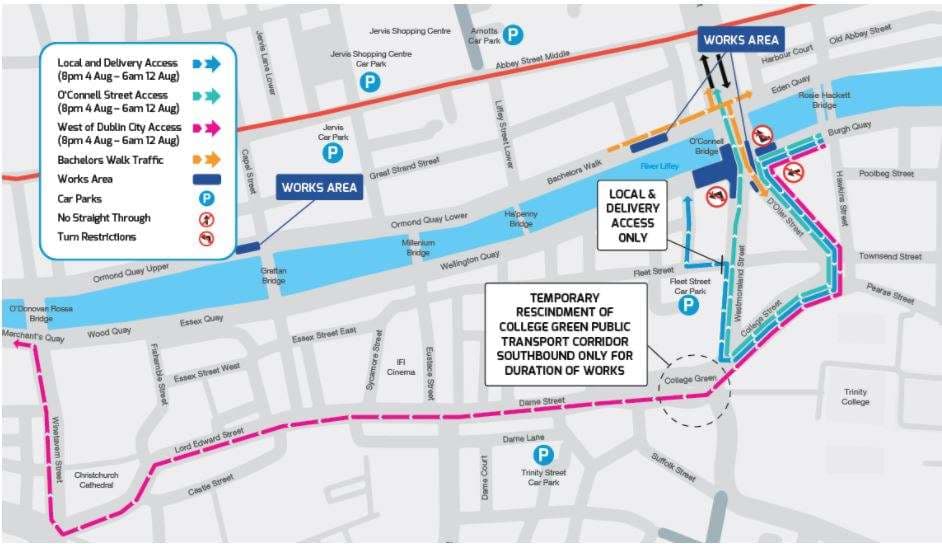 Update on Luas Cross City Works and associated traffic diversions
Works on the North and South Quays Luas cross city are nearing a conclusion with passenger services due to start in just 19 weeks at the beginning of December. The 5.6km light rail is an extension of the green line and will include 13 new stops from St. Stephen's green through the city centre – linking north and south with an interchange with Red line at O'Connell street and will be delivered on time and within budget.
What are the works taking place?
The final piece of major disruptive work related to Luas Cross City is taking place from 1st August until 12th August. This includes road reconstruction work at Aston Quay and Burgh Quay, plus resurfacing and traffic management work at Bachelor's Walk.
The main traffic disruption will occur from 8pm on Bank Holiday Friday 4th August until 6am on Saturday 12th August, when the South Quays will be closed to westbound traffic at O'Connell Bridge. This work will be undertaken on a continuous 24/7 basis. If weather conditions are favourable, and no other unexpected issues are encountered, the works may be completed early.
The College Green Public Transport Corridor (bus gate) will be open to all southbound traffic to facilitate local traffic diversions, and wider diversions will be in place to direct through traffic to avoid the area. Access to all car parks is being maintained.
Why is this work necessary?
The road reconstruction work is required on the South Quays because the current road surface and structure is in very poor condition. A large number of trenches have been excavated at this location during four years of Luas Cross City works and also during separate utility works going back many years. Some of the trenches have been rapidly repaired on a temporary basis to keep traffic moving during peak times.
The reconstructed road will provide a reliable and high-quality running surface for many years to come, lowering the risk of an emergency closure due to road failure in the future.
Timing of works:
The week of the August Bank Holiday is one of the quietest weeks of the year for traffic volumes in Dublin City Centre, and is the most opportune time to carry out this disruptive work. In addition, it would be much more disruptive to reconstruct the road when Luas Cross City services are up and running.
On Bachelor's Walk, work is on-going to provide improved bus priority on the approach to O'Connell Bridge. This includes the provision of a dedicated bus signal and associated traffic islands on Bachelor's Walk.
A major public information campaign is on-going regarding these works. This includes the use of radio, national print media, regional media (to take account of GAA matches at Croke Park), social media, AA Roadwatch, etc.
There will be signs on the M50 directing people to Croke Park and Aviva and as people get closer into the city there will be on street signage showing the diversion routes.
Consultation with key stakeholders:
The transport stakeholders have been preparing for the works in collaboration, and a daily conference call will take place between the stakeholders to report on progress. Extra motorcycle Gardaí will be on duty to aid with traffic flow and to provide rapid reaction where necessary. The Luas Cross City Freefone number (1800 303 653) will be manned all weekend and there will be 24/7 on site managers and traffic control personnel at the work sites through the weekend.
For further information visit www.luascrosscity.ie