Memo from Dept of An Taoiseach regarding Easter Weekend events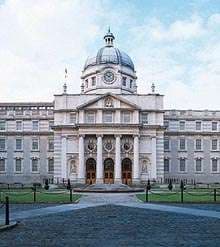 Following a business briefing held last week, where practical business issues were raised specifically regarding the O'Connell Street area for the 2016 Commemorations events over the Easter Weekend, DublinTown communicated on behalf of our members with the Department of An Taoiseach who are overseeing the events.
The Department then arranged a follow-up meeting with senior representatives from the Department, the organisers of Ireland 2016 Commemorations events, the OPW, the Event Planners, Dublin City Council, the National Transport Authority and Senior Gardaí.
At this meeting DublinTown reiterated, in detail, general issues and concerns of businesses and issues received from specific businesses. The bodies at the meeting have committed to address the issues raised by DublinTown and to liaise with those businesses directly affected by the event and the build that is required in the O'Connell Street area.
The city in general is widely unaffected on Friday March 25, Saturday March 26 and Monday March 28. The area of O'Connell Street will be affected by vehicle restrictions during Friday – Monday. Pedestrian access will be maintained on O'Connell Street every day with the exception of Sunday March 27 where O'Connell Street is restricted to Dignitaries and invited guests.
Please see the following memo from the Department of An Taoiseach addressing the points raised: