Poolbeg St closure to facilitate Luas works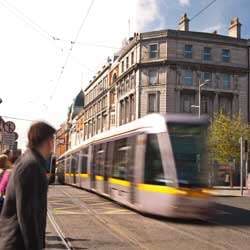 For four weeks, from May 15th, Poolbeg Street will be closed to traffic between Corn Exchange Place and Hawkins Street.
This is to facilitate the works required for Luas Cross City on Hawkins Street. During this period local access on Poolbeg Street between Corn Exchange Place and Hawkins Street will be facilitated but access to Hawkins Street from Poolbeg Street will be blocked.
Diversions will be in place:
Traffic accessing Townsend Street from Poolbeg Street
»» Traffic to turn right onto Corn Exchange Place and then turn left onto Burgh Quay
»» Traffic to continue on Burgh Quay before turning left onto D'Olier Street
»» On D'Olier Street traffic to travel in the left hand lane and turn left at the next set of traffic lights onto Townsend Street.
Bus Stops on Hawkins Street
During the works bus stop number 4494 located between Burgh Quay and the Poolbeg Street junction will be closed. Bus routes serving this stop will operate from bus stop number 4495 located between Poolbeg Street and Townsend Street junctions. For the latest information regarding Dublin Bus services see www.dublinbus.ie.