Proposed College Green Plaza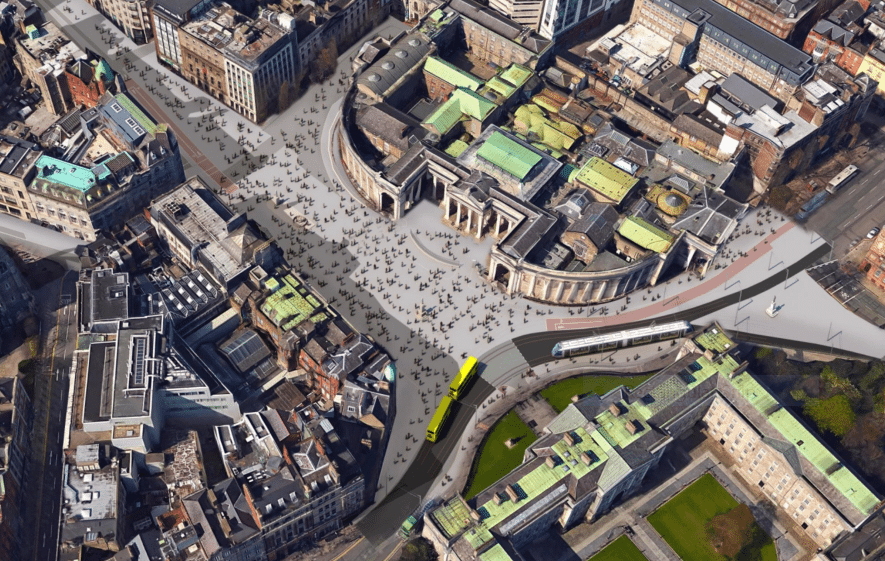 DublinTown believes that the College Green proposals announced by Dublin City Council will add to the overall city experience while protecting vital access through the city.  DublinTown believes that investment in the city's public transport infrastructure is essential to maintain the momentum in economic growth which the city is currently experiencing.  However, a key consideration for city businesses is maintained access to the city's public car parks and hotels.  The plans unveiled can accommodate these objectives and it is to the credit of the Council and the National Transport Authority, that this is achieved while also creating a civic plaza which has been on the city's wish list for many years.
Public transport such as buses, taxis and the Luas will cross the city through College Green, Lower Grafton Street and onto Nassau Street.  Changes to the traffic configurations in the city centre will maintain access to the city's hotels and car parks.  DublinTown CEO Richard Guiney said: "It is particularly gratifying to see that the concerns expressed by the business community have been taken into consideration and have been addressed by Dublin City Council and the National Transport Authority.  We believe that the plans outlined are workable and will add considerably to the city experience.  We look forward to the development of the civic plaza on College Green and the creation of a central event space. These are exciting times when we are future proofing the city for 21st century.  Dublin has the clear potential to be a key European city and the decisions we make today will determine our success for the decades to come. The inclusive process adopted in the development of the current proposals auger well for the future" he said.
For further information on the proposal see here.