Tap to Give for Good Christmas Campaign launched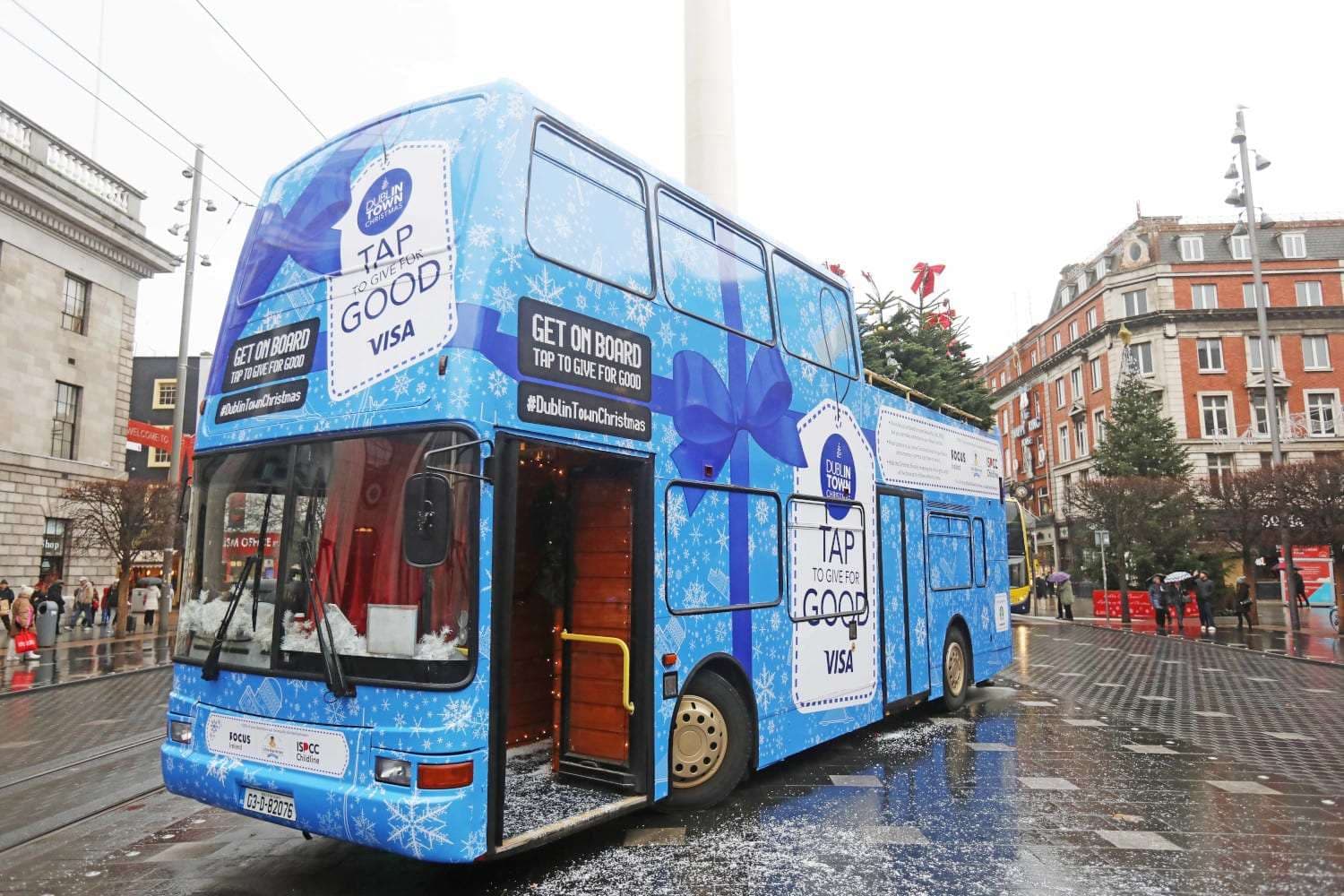 'Tis the season for giving' and for those beginning to get into the Christmas spirit there's never been a better time to visit the city.
Dublin City Centre is unrivalled when it comes to shopping and socialising, and this Christmas is no different. DublinTown and Visa have joined forces to create a new 'Tap to Give for Good' festive charity partnership that makes it easy and fun for Dublin city visitors to give to deserving children and family charities this Christmas and into 2020.
From today December 2nd and for the first time in the city, twenty Dublin businesses will host 'Tap to Give for Good' contactless donation devices that are powered by Visa, enabling shoppers to instantly donate to Focus Ireland, the ISPCC and Little Blue Heroes, starting from just €3. Customers will have the opportunity to support these worthy causes over the festive season and during 2020 as the contactless donation devices will become a regular fixture.
Every weekend throughout the month, shoppers can also visit the new DublinTown and Visa 'Tap to Give for Good' Christmas Bus.  Experience Dublin city's first open top snow-covered alpine forest for a unique festive photo opportunity and wrap presents for our charities to give to children at the 'ChristmasElves' Workshop, whilst giving back to very worthy causes. All of the presents to be wrapped have been kindly donated by Starbucks.
Following on from the success of last years' DublinTown Christmas ChariTree campaign, all money raised through the new contactless donation devices powered by Visa in participating businesses, and at the Christmas Bus, will go directly to the charities which act in service of our city's most vulnerable and sick children and families. Donations start at €3 and scale up to give €5, €10 and €20 if donators so wish. For those seeking to create new special Christmas memories, the new DublinTown and Visa 'Tap to Give for Good' Christmas Bus will alternate on a daily basis across every weekend in the run up to Christmas between Stephen's Green North and O'Connell Street. Full details can be found on DublinatChristmas.ie or DublinTown.ie.
For further information on Visa 'Tap to Give for Good' visit DublinatChristmas.ie or DublinTown.ie.
For regular event updates, follow @DublinTown on Facebook, Twitter and Instagram. #DublinTownChristmas.