We Are DublinTown Launches Thornton's Group Waste Scheme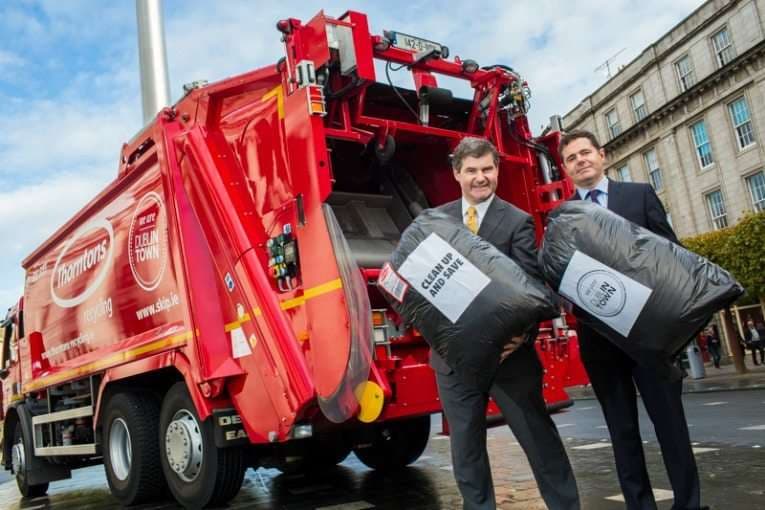 Dublin city centre businesses set to clean up on waste management costs, as DublinTown launches Group Waste Scheme
New scheme promises costs savings of up to 20% for businesses 
[SlideDeck2 id=5886]
DublinTown, the collective of 2,500 businesses in Dublin city centre, today launches a new Group Waste Scheme for city centre businesses, promising to cut waste collection charges by up to 20%, while offering businesses greater control over their waste management service.
The Group Waste Scheme has been developed by business group DublinTown, in direct response to concerns raised by businesses in Dublin city centre over rising waste costs and inconsistencies in some areas of the collection service on offer.
The new DublinTown Group Waste Scheme will cut the average cost of collecting a standard bag of waste to €1.85, a saving of around 20% on the current average cost.
Thorntons Recycling Ireland and facilities management company Aramark Ireland were selected to provide the Group Waste Scheme, following a competitive tender process.
DublinTown will administer the Scheme on behalf of member businesses and will provide a dedicated account management service to ensure that key performance indicators, including collection times, are met and adhered to.
Speaking at the launch, Minister for Transport, Tourism and Sport, Paschal Donohoe said: "Dublin city centre is often the first stopping point for many tourists arriving in Ireland, so it is critical that their initial impressions of our capital city are good. Ensuring that the streets of Dublin city meet the expectations of tourists and that their perception of Dublin is positive is key to encouraging return visits from them and to the promotion of Ireland to their family and friend at home. Continuing to grow tourist numbers is central to the delivery of jobs in our economy. Creating an attractive and welcoming city centre environment, which is clean and well managed, is central to that. I am very encouraged to see businesses coming together in a practical way such as this, so that improvements and efficiencies can be made in respect of the city's collection of waste, which will ultimately benefit everyone who spends time in our capital city."
DublinTown CEO Richard Guiney added: "An average retail unit in Dublin centre will currently spend around €500 per annum on waste collection services, while a restaurant will spend up to €2,000 per annum. There are significant savings to be had when businesses come together and negotiate discounts on a group basis – based on our estimate, if 1,000 businesses were to participate in the Scheme, this would translate to an overall potential annual saving of €1 million. We urge businesses to check out the potential savings to be had and to get in touch with our office to sign up."
The Dublin Group Waste Scheme is modeled on successful existing schemes in operation across the UK including the West End, Leicester Square and Trafalgar Square areas in London and city wide schemes in locations including Birmingham and Edinburgh.
Waste collected from city centre businesses through the Scheme will be brought to Thornton's Ballycoolin recycling facility for processing.
Businesses can sign up to the DublinTown Group Waste Scheme by logging on www.wearedublintown.ie or by contacting DublinTown directly at 01 633 4680.
ENDS
For further information contact:
Martha Kavanagh / Louise Walsh Drury|Porter Novelli (DublinTown)
087 646 2006 (MK) / 087 775 7725 (LW) / 01 260 5000
Notes for Editors:
About Dublin Town
DublinTown (formerly Dublin City BID) was established in 2008 by businesses operating in the city centre to win back custom and create a strong and thriving city destination that is enjoyed by Dubliners and visitors alike.
DublinTown organises or promotes at least one major event each month in the city, including the every growing Dine in Dublin Restaurant Week and Dublin Fashion Festival. It is also responsible for erecting Christmas lights on a total of thirty individual streets in the city centre each year and this year, will facilitate the first ever traditional Christmas markets which will be at St Stephen's Green.
In 2013, over 10,000 square meters of graffiti was removed from streets in DublinTown's area by DublinTown graffiti removal crew (this is almost one and a half times the size of the pitch at the Aviva Stadium).
DublinTown also responded to almost 10,000 calls from member businesses availing of its rapid response cleaning service. The most common calls are cleaning up after rough sleepers, drug paraphernalia, rubbish on the streets and various waste.
DublinTown also operates a 'Night Crew' which is an extension of the daytime Ambassador and rapid response cleaning crew. The Night Crew service the evening economy in the city between the hours of 8pm – 4am, Thursday to Sunday. They act as an information point for visitors, respond to emergency street cleaning needs of members and monitor anti-social behaviour and report such to the Gardaí.
In 2010, DublinTown (then Dublin City BID) launched a group insurance scheme which offered member businesses the opportunity to avail of a 20% reduction in their existing premium with First Ireland.  DublinTown lobbies on behalf of its members on issues such as waste services, anti-social behaviour, and better utilisation of Dublin streets for street entertainment, busking etc.