World of Coffee Dublin – The very first Ambassador's Club Members Announced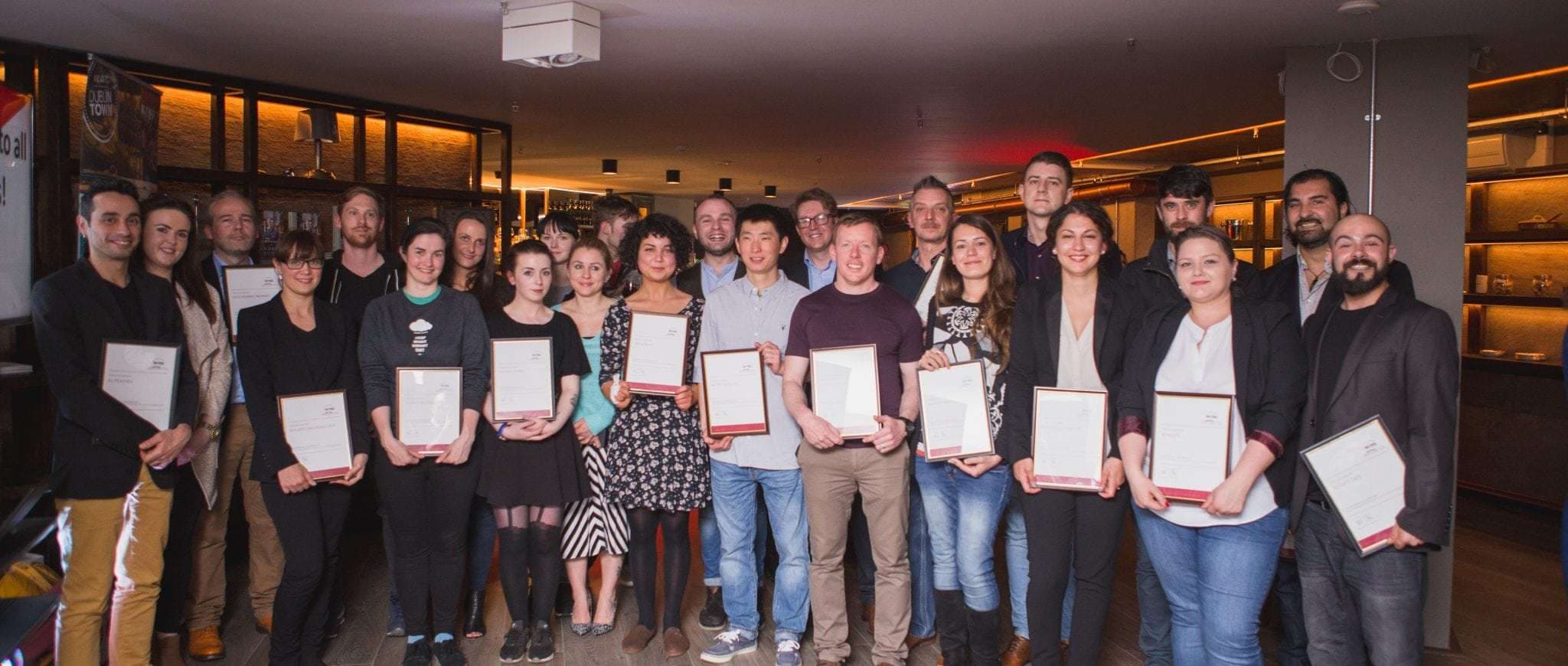 DublinTown members are among the first members of The Coffee Ambassador's Club in time for the upcoming World of Coffee event this June.
The Coffee Ambassador's Club is an exciting and innovative new programme whereby approximately 30 of the best cafes, restaurants, hotels and bars serving specialty coffee in Dublin would be chosen as finalists and supported through a detailed range of training and marketing initiatives.
The vision was to establish Dublin as one of the world's greatest coffee destinations in time for the World of Coffee event this coming June and to create a lasting legacy that would benefit the city long beyond the staging of World of Coffee.
With support from DublinTown, the process started in May 2015 when hospitality operators across the city were invited to apply to become a World of Coffee Ambassador and help to inspire coffee excellence. Nearly 60 outlets applied and the thorough auditing process began late last year. The process involved off-site training days, a one-to-one on-site training session along with three on-site audits completed by Jon Skinner, an Independent Barista Trainer.
The commitment and passion of the hotels, restaurants, bars and cafes that make up the Ambassadors Club is guaranteeing that Dublin will resonate as a quality coffee destination not to be rivalled with. This highlights the trend across the food service sector for the need to improve the quality of an establishment's coffee offering.
The standard of entrants proved extremely high and the eagerly anticipated finalists have been announced. We'd like to especially congratulate the DublinTown members for reaching the standard. They are:
Keoghs Café, Trinity St.
River Café, D'olier St.
Blu Apple. O'Connell St Upper
Irish Whiskey Museum, College Green
Coffee Angel, Sth Anne St.
KC Peaches, Dame St.
Bewleys, Georges St.
Kaph, Drury St.
Fallon & Byrne, Exchequer St.
Brannigans, Cathedral St.
Bewley's at Arnotts, Abbey St.
Joe's Coffee at Arnotts, Liffey St.
Metro Café, South William St.
Fitzwilliam Hotel, St. Stephens Green West
Kay's Kitchen, Jervis Centre
VICE Coffee Inc, Middile Abbey St.
Fresca Restaurant (Formerly Pasta Fresca),
Chatham St.
Butlers Chocolate Café, Henry St, Grafton St,
Chatham St, South William St.
According to SCAE (Specialty Coffee Association of Europe) President Ireland, Paul Stack:
We wanted to create a programme which could take energy from SCAE's World of Coffee and leave a positive legacy behind when the event rolls out of town, on to the next European city. The Ambassadors' Club ensures Speciality Coffee standards of coffee preparation and service are embedded in the businesses involved, enjoyed by the thousands of visitors and lead the way as a benchmark for excellent coffee service in Dublin. We are really delighted with our final Ambassadors Club and we wish them future good luck in their businesses.
Auditor Jon Skinner said:
The first time the Ambassadors Club was explained to me it seemed like a great idea. However, I would never have believed how much commitment the people involved would give it. The standard in the first round was high, however as the second round and then finally the third rounds were completed the standards just kept improving. It goes without saying that the outlets have invested heavily in the Ambassadors Club, and there have been three new Espresso machines, five new grinders and changes in their roasters. I consider myself very privileged to have been involved and to have met so many committed individuals, it has been a pleasure.
The finalists will now be promoted on the World of Coffee 2016 website, mobile app and promotional material which will showcase some of Dublin's best coffee locations. DublinTown will also be supporting each of the establishment's achievement by publishing window decals to showcase their accomplishment in completing the programme. The successful Ambassadors will be publicised to all World of Coffee visitors and also circulated in Ireland through media partners.
According to Richard Guiney CEO of Dublin Town;
The coffee scene in Dublin is growing in popularity and now that 30 businesses being internationally certified for their barista skills it's only going to get better. I'm proud to see that more than half of those certified are DublinTown members. The city continues to evolve and change with the times, and as the demand for coffee increases the quality of coffee outlets follows suit. DublinTown is working with its members through the Unique to Dublin programme, which supports independent retailers such as coffee houses that can only be found in the city centre. It's great to see members like Blu Apple O'Connell St., Joe's coffee at Arnotts, Kaph Drury St. and Fresca Chatham St being recognised for their barista skills and coffee brews with an international certificate as part of this year's World of Coffee event.
About World of Coffee
Owned and organised by the Speciality Coffee Association of Europe (SCAE), World of Coffee is the flagship event in the European coffee calendar now in its 16th year. Whether you are eager to learn about emerging trends, key industry issues or the latest in equipment or services, explore and sample the latest products or discover exciting new innovations in the coffee market, this is the place to be. Register for tickets here 
Event Sponsor – BWT water+more: The aim of BWT water+more is to provide top quality water for all kinds of coffee, regardless of the local situation. Founded in 2005, the water filter specialist is a 100% subsidiary of the internationally active Best Water Technology AG (BWT). The BWT Group was founded in Austria in 1990 and is Europe's leading water purification company, with over 2,800 staff in its 70 subsidiaries and holdings.